Corporate Focus
Tartisan is focused on creating shareholder value by exploring for Gold-Silver in Perú's prolific North-Central mineralized belt.


Tartisan's flagship property is the "La Victoria" which comprises approximately 3,260 ha and lies within this 300 km belt along the Andes which hosts 12 operating mines, 3 of which are world class producers.


La Victoria has excellent potential to host high-grade oxide and sulphide epithermal Au, Ag vein systems as well as potential for a large, low-grade, disseminated Cu, Au and Ag (porphyry-type) deposit.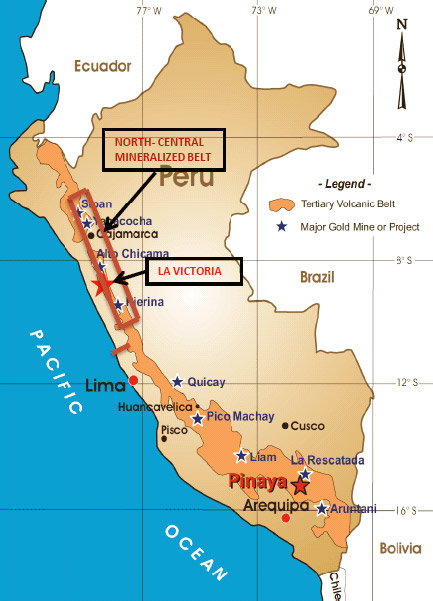 Location
Significant mining and exploration projects in the vicinity of the La Victoria property
Below you will see a panoramic view looking north-northwest from the La Victoria property
Producing mines can be seen in close proximity to our property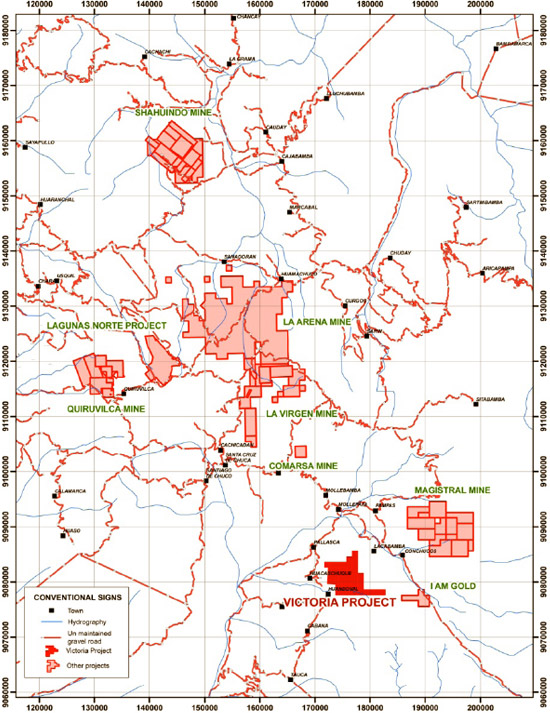 Exploration Work Conducted To Date
Consisted of:

Installation of Four Geodesic Benchmarks
Topographic survey with two meter spacing
Ground Magnetic Geophysical Survey (MAG)
600+ samples taken for Geochemical Survey plus ICP, Au, Ag and over limit analyses
Completion of a Technical Report NI 43-101
An access road to La Victoria Property has been completed
Preparation of a road survey and infrastructure improvements to the Ruffina Property

$500,000 plus expended over 5 months
3 temporary base camps were constructed on the property for workers
Work done has located additional areas of mineralization, including 3 significant anomalies
La Victoria Property - Three Known Anomalies
8 Claims, 4,460 Ha
3,100 - 4,200 m above sea level
$500,000 plus in exploration expenses in 2010
$1.6 million recommended work program post IPO
Grab samples of note:

San Markito: 1814 g Ag/t - (0.3m x 0.4m)
San Markito: 1453 g Ag/t - (0.3m x 0.7m)
Rufina: 46.47 g Au/t - (0.25m x 3 m)
San Markito - La Victoria Anomaly
Geology and Mineralization
The mineralization is genetically-related to the quartz porphyrytic dacite subvolcanic intrusive rock (QFP) that has intruded both the Diorite and Chicama Formation rocks
Hydrothermal breccias formed near the intrusive contact within a NW trending structural corridor covering over 500,000 m2
IP Survey Lines
IP Survey commenced July 2011
IP survey performed by VDG del Peru SAC with follow up interpretation and report writing in progress
Survey was designed to cover known anomalies
Results of survey will help define drill targets
Drilling scheduled to commence post IPO
Post IPO Activities
An Environmental Impact Report has been approved which has granted Tartisan the necessary permit to construct 20 drill-platforms and begin our drill program post IPO
Receive Induced Polarization Survey (IP) Report
Construct a permanent camp, purchase software and equipment
4000 m NQ drilling program to test the: mineralized zones, down dip continuities and IP geophysical anomalies
Second access road to be built to the Ruffina Property
Trenching, geological mapping, sampling and geophysics (MAG & IP) to continue